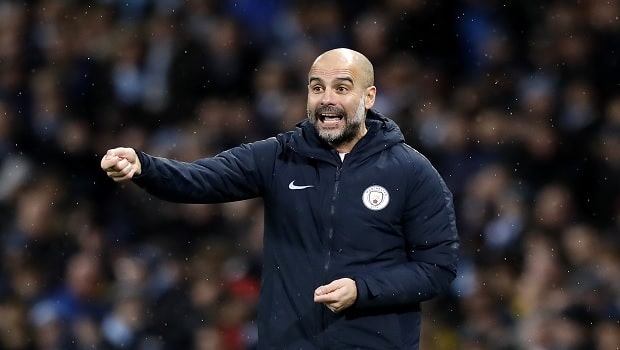 Manchester City won't be allowing Saturday's shock 3-2 defeat against Crystal Palace to stunt their hopes of retaining the Premier League title, according to Pep Guardiola.
The setback ensures City will trail leaders Liverpool by four points on Christmas Day – compared to the same time last year when they were 13 points clear at the top of the table.
Ilkay Gundogan's 27th-minute opener appeared to signal business as usual for City but Palace scored two goals in two minutes to lead before the break, a wonder-strike from Andros Townsend adding to Jeffrey Schlupp's leveller.
A penalty from Luka Milivojevic made it 3-1 to the visitors six minutes into the second period and, while Kevin De Bruyne netted late on, City couldn't recover to earn even a point.
Guardiola felt there was nothing untypical about the way game was played out. "This was a typical game we have played many times," he said.
"Where everyone defends deep, we break the game up when we score a goal and afterwards, with patience, we score a second goal and they have to open up a little bit and we have spaces to kill the game."
"The first time they passed halfway – it was wow, a goal," Guardiola said. "Second time too. I want to give credit to Palace and I don't underestimate what they have done, but that is football sometimes."
Eight of the last nine teams to top the table on Christmas Day have gone on to be champions, but Guardiola is not getting overly wound up by unbeaten Liverpool – City's next opponents at home – leading the way at this stage of the season.
"It is complicated, but we will fight until the last second. We are in December and we will try to recover and win games again," he added.
Manchester City remain favourites at 1.80 while Liverpool are 2.10 to end their wait for a Premier League crown.
Leave a comment