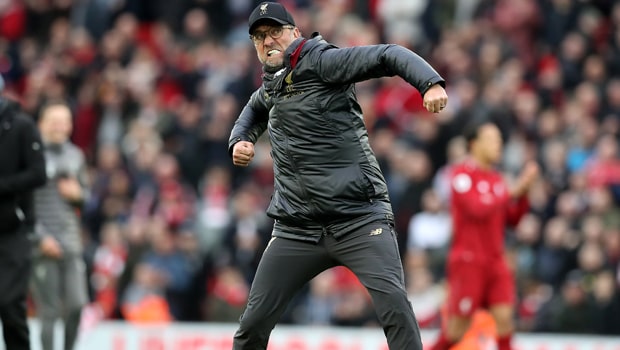 Jurgen Klopp has hailed the "power" that exists in and around Liverpool as a club this season and suggests it is "obvious" they are on the right track for glory.
The Reds face Southampton at St Mary's on Friday night knowing victory will once more move them above Manchester City in the title race, with the champions engaged in FA Cup action this weekend.
The race for the Premier League crown looks set to go to the wire between Liverpool and City, with a single point currently separating them.
Klopp says there is now "energy and power" about Liverpool and he's very happy with how things have progressed since he took over from Brendan Rodgers.
"We have a really good team together, as a club," said Klopp. "It's a proper force, we have a lot of power in and around the club. Take all the dreams together and that can be a real high energy, or create a proper energy going forward. It took a while obviously until everybody thought it, but it's obvious."
Liverpool have needed late winning goals against Fulham and Tottenham in their most recent outings to keep the show on the road. They have a seemingly favourable Champions League quarter-final against Porto to come this month and, in Klopp's eyes, their progress is very clear to see.
"We will probably qualify for the third time in a row for the Champions League, it's been a while since that happened, we are fighting for the top spot in the league and we are in the quarter-finals of the Champions League, it's obvious," he added.
While they are far from being the finished article in the manager's eyes, the Reds must simply use the strengths at their disposal to win the vital games ahead of them in the title run-in.
"We can improve, oh yes, so much, of course we can improve, we have to, but at the moment we put all our skills, all our potential, all our desire together and go for the next game," added Klopp.
Liverpool are 1.40 to beat Southampton. The in-form hosts are 8.50 while the draw is priced at 4.75.
Leave a comment