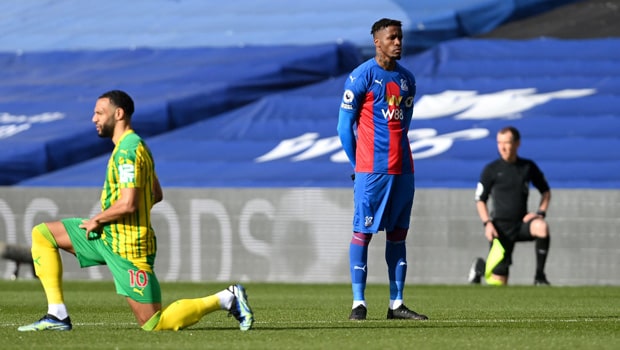 Crystal Palace's Wilfried Zaha became the first Premier League player since last season to not take a knee prematch as a demonstration when he decided to stay standing Saturday vs West Brom. Players and officials alike have been taking a knee prematch since protests surfaced following a police shooting of George Floyd in May 2020.
"My decision to stand at kick-off has been public knowledge for a couple of weeks now," Zaha said in an official statement over the weekend via Rocnation. "There is no right or wrong decision, but for me personally I feel kneeling has just become a part of the prematch routine and at the moment it doesn't matter whether we kneel or stand, some of us still continue to receive abuse."
Previous to this weekend, Zaha had already made some comments saying the kneeling demonstration was degrading.
"When people constantly want to get me to do Black Lives Matter talks and racial talks and I'm like, I'm not doing it just so you can put 'Zaha spoke for us.' Like a tick box, basically," Zaha added. "I'm not doing any more because unless things change, I'm not coming to chat to you just for the sake of it, like all the interviews I've done."
Although Saturday's actions go against what Premier League CEO Richard Masters said about players continuing to take a knee before games, there are no expectations of any sort of a consequence from this past weekend's action(s).
Zaha has now spent 11 seasons with Palace.
Palace did win Saturday, 1-0, thanks for a first-half penalty from Luka Milivojevic.
"As a society, I feel we should be encouraging better education in schools, and social media companies should be taking stronger action against people who abuse others online — not just footballers," Zaha wrapped up in his statement. "I now just want to focus on football and enjoy being back playing on the pitch. I will continue to stand tall."
Palace are back in action April 5 vs Everton.
Leave a comment