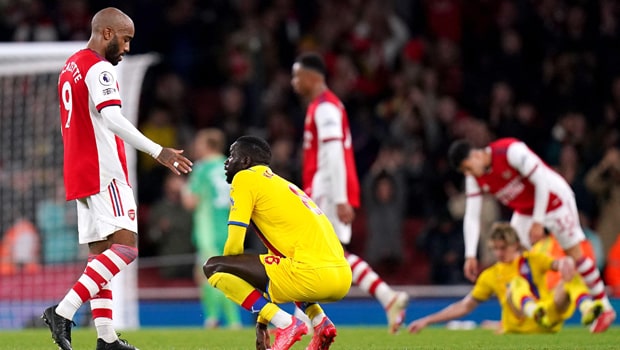 Patrick Vieira made his return to Arsenal, this time with Crystal Palace, but a late equalizer from substitute Alexandre Lacazette made it a 2-2 draw Monday at Emirates Stadium.
"He is an Arsenal legend and I hope he gets the reception he deserves for what he did for the club, not only as a player but also what he transmitted as a person," Arsenal manager Mikel Arteta said prior to the match.
Vieira's return was eagerly awaited as he entered the stadium to a wave of fans singing his praise.
"Vieira, whoa oh," the fans sang.
The Arsenal legend and Palace manager was moments away from three points on the road, but a 94th minute goal from Lacazette made the ending bittersweet.
"I'll always love this football club, the fans," Vieira said candidly. "I'll always be an Arsenal fan."
Pierre-Emerick Aubameyang gave the Gunners the leader after eight minutes. Aubameyang has scored in 3 successive home PL apps for the first time since scoring in 5 in a row from May-Sept 2019.
"When the fans are with us it gives energy to all of us," Lacazette said after the match.
Five of Lacazette's last six Premier League goals for Arsenal at the Emirates stadium have come in London derbies, including each of his last four.
He clearly enjoys the pressure, and the moment — scoring in under 25 minutes of action on the field.
Arsenal won the battle of possession 55-45, but both sides had six shots on target.
Arsenal goalkeeper Aaron Ramsdale has still never lost a match for Arsenal.
Crystal Palace's Christian Benteke scored against Arsenal for the second successive appearance, continuing to play better on the road vs at home. Benteke's last goal came 152 days ago – against Arsenal.
Some analysts worried the absence of Wilfried Zaha could be troublesome for Palace on Monday. The Ivorian Zaha was out due to illness.
"Since he came back from internationals he's not been feeling well at all," Vieira said of Zaha. "He started doing really light training today and will train with the group on Wednesday."
Benteke helped fill in the production gap, doing everything Vieira needed him to.
The 2-2 result put Arsenal in the No. 12 spot of the table, with Palace staying in the No. 14 spot, three points behind.
Arsenal have a short week with a match later this week on Friday, 22 October vs Aston Villa. Palace get set to build momentum on Saturday, 23 October vs Newcastle.
Leave a comment