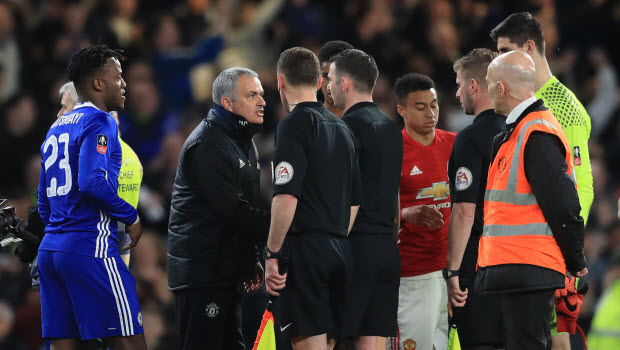 Manchester United coach Jose Mourinho has claimed he is still Chelsea's best manager after he was jeered during Monday night's FA Cup defeat.
The former Blues coach returned to Stamford Bridge but could only watch on as his side lost 1-0 in the quarter-finals. Midfielder N'Golo Kante scored the only goal of the match, with United reduced to 10 men after Ander Herrera saw red in the first half.
The Spaniard was handed two yellow cards after fouls on Eden Hazard in what was a feisty encounter in west London. Chelsea boss Antonio Conte had to be separated from Mourinho on the touchline following a challenge from Antonio Valencia on Marcos Alonso.
Following the incident, Mourinho was booed by the home crowd but the 54-year-old insists he is still the club's best manager while he also praised his own squad.
He told reporters: "They can call what they want. I am a professional. I defend my club and until the moment they have a manager that wins four Premier Leagues for them, I am the number one.
"When they have someone who wins four titles, I become number two. But until this moment, Judas is number one. "I managed to control my emotions and reactions – and that's good because this way I can be on the bench the next match.
My players, they need me. "I'm really proud of my players. After [last] Thursday in Rostov [in the Europa League], with Rostov again on Thursday, I'm proud of the guys.
"Mr Oliver goes home and can do his own analysis because I don't want to analyse his work," Mourinho added in reference to the referee's performance at Stamford Bridge.
Leave a comment