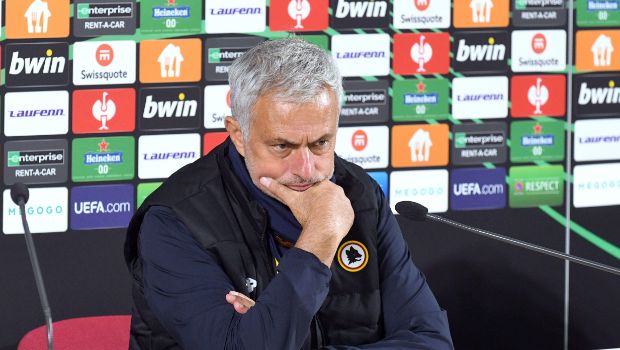 AS Roma manager Jose Mourinho says his club has technically won and qualified for the Europa League final.
The controversial manager stated this during his press conference ahead of the Europa League semifinal return leg against Bayern Leverkusen.
The Rome club goes into the clash at BayArena on the back of a 1-0 win from the first leg in Italy.
Mourinho, who revealed that Paulo Dybala and Chris Smalling could play against Bayer Leverkusen, noted that Roma is the only remaining side that started the competition in the last four make them technically the winner.
The Giallorossi already have their slim advantage at the back of their mind from a very tight first-leg tie thanks to the goal from youth product Edoardo Bove and a late goal-line clearance by Gianluca Mancini.
Since the away goals rule has been scrapped, any defeat for Roma by a one-goal margin would prompt extra time.
The coach further revealed that Dybala, Stephan El Shaarawy, and Chris Smalling would be available for selection, while Karsdorp, Llorente, and Darboe are unavailable.
He will look forward to the minutes they can play after their return from injury.
Speaking further on the repeated link with Paris Saint-Germain, the former Chelsea manager said his main focus is today's game, which isn't even the Final.
It isn't a surprise that The Special One is linked to the PSG job, having reached five European Finals in his career, including last season's Conference League.
He described Roma's fans as extraordinary, and his players are incredible because they have given everything in many moments of difficulty where people had to surpass their limits.
He there urged them to produce another extraordinary performance today to secure a ticket to the Final.
Roma are considered the favourites to lift the Europa League, as some bookmakers made their predictions primarily due to Mourinho's presence.
Leave a comment