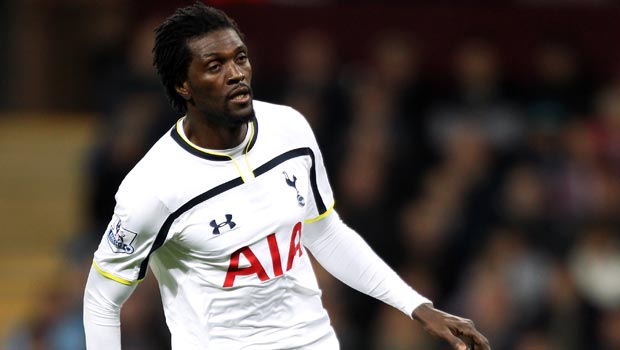 Tottenham manager Mauricio Pochettino has pleaded with the clubs fans to stop booing striker Emmanuel Adebayor.
The 30-year-old has just returned from a nine-week layoff due to injuries, illness and family issues. He appeared in the home wins over Leicester and Sheffield United but found himself on the end of abuse from sections of the White Hart Lane crowd.
Ahead of the FA Cup fourth-round clash with Leicester on Saturday, Pochettino has urged home fans to consider the effect such behaviour has on the overall morale in the dressing room.
"I think this is best because all players need to feel the support from the stands from our supporters," he said.
"I think it's better for him and for the team. We always need to create a great atmosphere to try to get success."
Spurs are priced at 1.74 to defeat Leicester, who are available at 4.74 with the draw on offer at 3.56.
Pochettino has enjoyed plenty of success in the cups during his first season at the helm in North London.
Spurs are on the verge of a Capital One Cup Final following their 1-0 first-leg victory over Sheffield United while they also have the knockout stage of the Europa League to look forward to and the ongoing battle for a place in the top four.
And the Argentine is urging his squad to keep fighting on all four fronts.
"We need to keep fighting in the four competitions," he added. "You can see that we have ahead a very busy period, a lot of games."
Starting with Leicester in the FA Cup, Spurs face eight games in the next 34 days.
Leave a comment