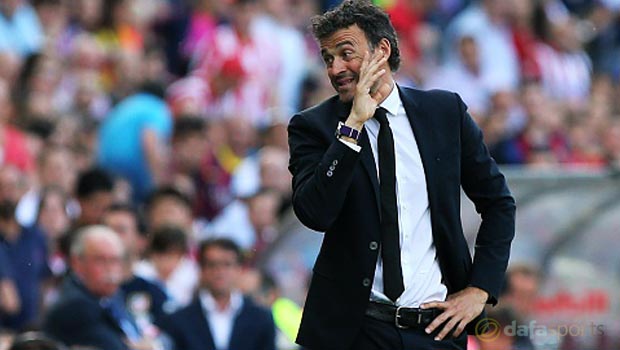 Barcelona coach Luis Enrique is refusing to talk about his future and is instead staying focused on winning the treble.
The Catalan giants wrapped up the La Liga title with victory over Atletico Madrid at the weekend and can now turn their attentions to the Copa del Rey and Champions League finals.
It has been a remarkable first season in charge for the former Barca player, but there have still been suggestions he will not be in charge at the Nou Camp next season.
Despite all the rumours, Enrique has refused clear up the situation and will only talk about his future once the campaign has come to an end.
Enrique, who still has another 12 months to run on his deal, said: "I have nothing to say. I will not speak about this until the season is over.
"Ten months ago I began this adventure at Barcelona. We made many changes at a time when the club had not won a title.
"We knew that it would not be a season of transition because it can never be like that in a club like this one."
Barca will conclude their La Liga campaign at the weekend before taking on Athletic Bilbao in the Copa del Rey final on May 30 at the Nou Camp before facing Juventus in the Champions League final on June 6 in Berlin.
"There are still two titles we are hoping to win," Enrique added. "We have three games left to play and two of them are finals."
Leave a comment