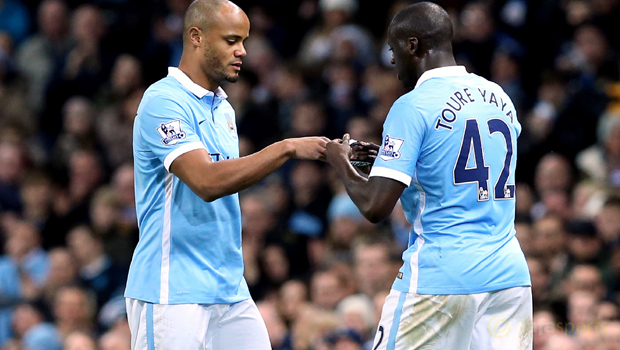 Manchester City manager Manuel Pellegrini was at a loss to explain after he watched his captain Vincent Kompany limp off nine minutes into his comeback against Sunderland.
The Belgian came off the bench to replace Nicolas Otamendi just after the hour mark in a straightforward 4-1 win against the Black Cats at the Etihad Stadium.
However, Kompany was trudging back down the tunnel with a resigned look on his face barely ten minutes later after being replaced by Martin Demichelis.
He seemed to overstretch in trying to dispossess Sunderland goalscorer Fabio Borini and the City boss confirmed afterwards the problem is once more with his calf.
Pellegrini said Kompany had been working well in the days leading up to the game and that he had completed a rigorous warm-up before taking to the field.
The Chilean, like his captain, was bitterly disappointed and hopes they can find some answers in the wake of this latest setback.
"Yes, it is the calf. Nobody understands," Pellegrini told reporters afterwards.
"He had a good warm-up, he was working during the week with normality. It is difficult to understand. The most important thing is to understand why this happens."
City's next opponents are Leicester City, with Claudio Ranieri's side having surrendered their nine-game unbeaten run in a 1-0 loss to Liverpool at Anfield on Boxing Day.
Pellegrini says it is an important game for his team, but not a defining one, and he feels City have a chance to take points from the teams around them in the table in their upcoming games.
"Nobody wins the title in December, but it doesn't mean it will be easy to beat Leicester. In the second half of the season we have to play teams around us," he added.
Man City are 2.00 to win the Premier League while they are 1.91 to win away at Leicester on Tuesday. The Foxes are 3.75 to win the King Power Stadium clash.
Leave a comment