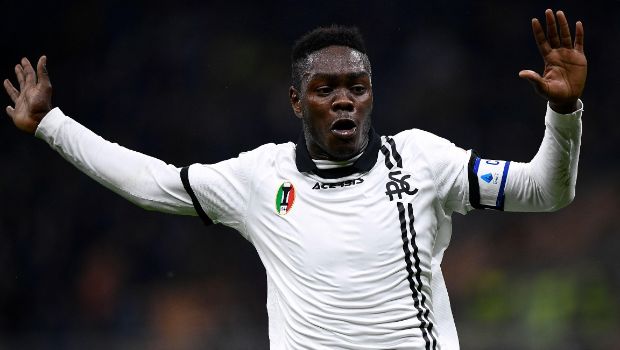 Juventus clinically moved past managerless Spezia as they made the most of their scoring opportunities through Moise Kean and Angel Di Maria.
The Bianconerri went into the match on the back of the 1-1 Europa League draw with Nantes on Thursday.
This win is crucial as the Europa League second leg comes up next week.
Spezia had gone into the clash after Luca Gotti were sacked on Wednesday, with new chief Leonardo Semplici in the lineup. Manuel Locatelli made the worst possible start as he was booked after 20 seconds for a late lunge to stop a counter-attack. He will therefore be suspended for the Derby della Mole against Torino.
Ampadu stopped Juve from scoring after he bravely charged down Kostic's strike with his head, and as the move continued, Locatelli's effort was deflected off target. The resulting corner saw Danilo's header glance just wide at the far post and Dusan Vlahovic's foot.
Juve would later open the scoring chat. Kostic released a cross from the left, and Ampadu failed to cut out the cross that landed in Moise Kean's direction and the striker to scuff his volley into the ground; the bounce took it into the far corner.
Spezia had the opportunity to level matters moments later, but Eldor Shomurodov's towering header went over the bar. Perin captured another chance from the Uzbekistan international while Emmanuel Gyasi slid in just beyond the Verde cross at the back post.
Kean's header from Alex Sandro's cross went off-target straight after the restart, and Gyasi's header was straight at Perin.The hosts went close to levelling matters, but Danilo had to fling himself in the way of Shomurodov's strike in the six-yard box.
Spezia continued searching for an equaliser, but Verde was unlucky to see his ferocious volley accidentally deflected by teammate Shomurodov.
Juve would later double their lead with quality play from not-fully fit Di Maria, who came off the bench to make the difference with a precise snooker shot from a distance into the far bottom corner, which went beyond Marchetti's fingertips.
After Fagioli fired straight at Marchetti, Perin continued his quest for a clean sheet with a fantastic reaction save on Emmanuel Gyasi's first-time strike from 10 yards as he used his body to parry off the line.
He ensured that the clean sheet was gotten when he flew to beat away a Nikolaou header from a corner.
Leave a comment