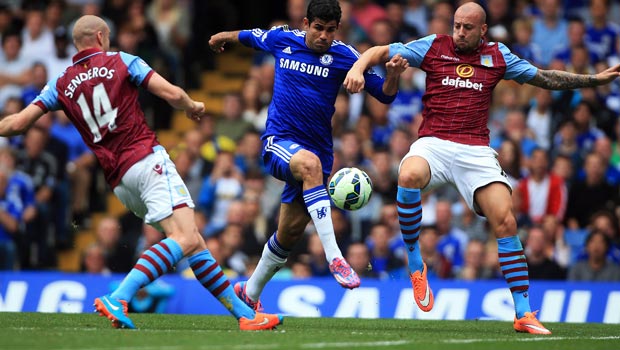 Chelsea manager Jose Mourinho has revealed that striker Diego Costa is doing "almost nothing" in training as he continues to battle a hamstring injury.
The former Atletico Madrid striker has already scored eight goals in the Premier League this season, including another in the 3-0 win over Aston Villa on Saturday.
The Blues, priced at 7.00 to win the UEFA Champions League, secured the victory thanks to goals from Costa, Willian and Oscar as they continued their fine run of form at the top of the Premier League.
Spanish international Costa has been plagued with a hamstring injury since the Champions League final and Mourinho has revealed that he is having to rest in training.
He said: "He cannot be on top of his game. He's doing almost nothing in training. He's just resting and recovering from the tight muscle he has. I don't care about Diego's goals. For me it's important that the team score enough goals to win.
"I know a striker scoring goals is always nice for him and for his confidence, especially for a player like him who is not training as he should, because we are protecting him in certain situations."
Mourinho has typically played down his team's performances so far this season but he was quick to praise his team for the way they dispatched Paul Lambert's men.
"It was a very solid performance. We played really well, we had the ball, we controlled a lot of possession while always controlling their counter attack," he said.
"My four defenders and midfield were really solid with and without the ball.
"I think they (Villa) are a good team and when you beat them in such an easy way it has to be a good performance."
Leave a comment