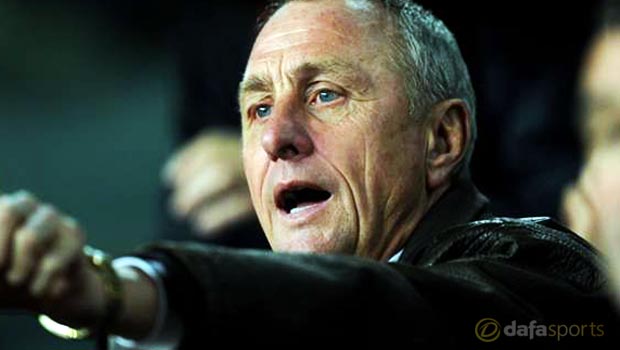 Barcelona legend Johan Cruyff believes the club needs to get back to producing stars from its La Masia academy rather than buying big-name players from abroad.
The Blaugrana enjoyed a tremendous campaign last term, as they claimed the Champions League, La Liga and Copa del Rey crowns under manager Luis Enrique.
Two of the club's standout performers were strikers Neymar and Luis Suarez, who both moved to the Camp Nou for substantial fees.
Former Barca star Cruyff believes the Catalan giants need to get back to putting their focus in developing stars from the academy and stay out of the headlines for big summer signings.
He told Marca: "It's been an exceptional year in sporting terms, with good football and titles won. It's been perfect.
"But that's not the whole story, there has also been a loss of values.
Such as with 'La Masia'.
"Barca has also run away with the world championship for tweets about legal issues and that cannot be. We need to get serious.
"When Barcelona was doing badly, there were two decisions made that had a significant impact on the way they played and thought, and those were the signings of [Frank] Rijkaard and [Pep] Guardiola. Both spent eight years at the helm of the first team, developing a project in which 'La Masia' was the magic word and that is now no longer the case."
Barcelona are the 1.67 favourites to retain the La Liga crown next season, while arch rivals Real Madrid can be backed at 2.38.
Leave a comment