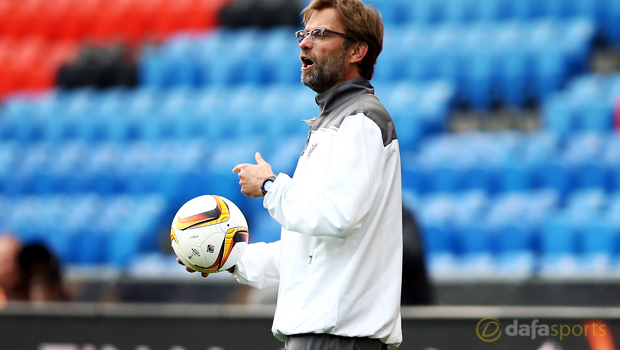 Liverpool manager Jurgen Klopp says the fact Sevilla head into Wednesday's Europa League final as the two-time defending champions is irrelevant.
The Reds take on the Spanish outfit in Basel on Wednesday as Sevilla look to claim the trophy for a third year in a row.
Klopp doesn't think the La Liga club's previous successes will have any impact in Switzerland and believes the advantage is with his Liverpool side.
Sevilla have also reached the final of the Copa del Rey and Klopp believes the players may also have that clash with Barcelona on their minds on Wednesday, while Liverpool's only target is the Europa League showpiece.
"To be honest, we could stop scouting two weeks ago because they changed the team completely," Klopp told Liverpool's official website.
"What we know is that they have another game after this game. They have a big final again. They have two finals – that's a big difference.
"They are quite experienced and will be ready too, no doubt about this. When you are experienced, it doesn't mean you have an advantage, it's only one part of all the parts around the game, and in the game you have to rule or solve.
"There's no advantage for one team.
If you won it last year, what does it mean? If you won it two years ago, what does it mean? Actually nothing, so it's another game.
"We didn't play them last year in the final, we didn't play them two years ago in the final, so it's the first time they play against us.
So that's our big advantage because we think we are quite different to all other teams in this moment. That's what we'll try to use.
"That's why we travelled to Basel on Monday. We have nothing else to do, to be honest.
There's nothing more important in this moment. It's not about putting the pressure higher and higher, it's about getting the right atmosphere."
Liverpool have been handed a big boost ahead of the final as it is understood Divock Origi has been passed fit. The Belgium striker had established himself as a regular starter prior to an ankle injury in April but he has been sidelined since suffering that blow.
The attacker is unlikely to be selected ahead of Daniel Sturridge against Sevilla although he is expected to be included among the substitutes, as is midfielder Jordan Henderson who returned from a lay-off of his own in Sunday's draw with West Brom.
Liverpool are 2.40 to win the match in 90 minutes, the draw is 3.30 and Sevilla are 3.00 to come out on top.
Leave a comment