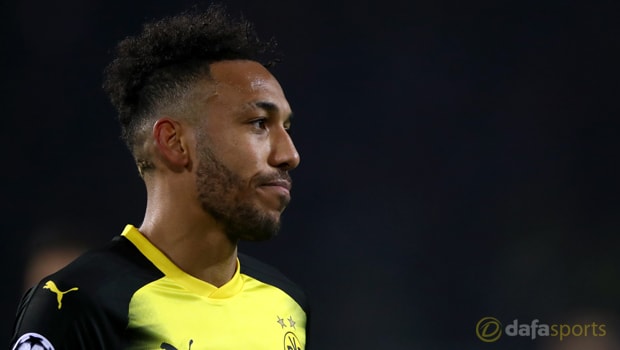 Borussia Dortmund forward Pierre-Emerick Aubameyang has been left "mentally crushed" by the transfer talk surrounding him, according to the Bundesliga club's president Reinhard Rauball.
The 28-year-old Gabon striker is one of Europe's most sought after goalscorers, having impressed in a Dortmund shirt since he joined from Saint-Etienne in 2013.
There was major talk of a move away from the Westfalenstadion in the summer, with AC Milan said to have been close to a deal although Dortmund pulled the plug on that move, citing a lack of respect shown from the Serie A club.
Aubameyang has scored 13 goals in 15 matches this season and, with a total of 98 league goals, is closing in on a Bundesliga century.
It hasn't been plain sailing however, with former coach Peter Bosz suspending the forward for one game earlier in the campaign.
Talk is once more focusing on a move away from the club during next month's transfer window and Rauball believes the speculation has taken a toll on Aubameyang in the past.
"For many years now, he has put in great performances for the club and also became the league's top scorer," he told kicker.
"Auba is pleasant, has humour, he smiles. If you know the numbers, you need to understand that, at one point, he was mentally crushed by the offers.
"That he's not earning those sums today is not because we blocked his move but it's down to the behaviour of clubs, and sometimes also the associations who played a role in it.
"Aubameyang, to me, is a player who has played an influential role in our rise. He's one of the cornerstones of our success."
Dortmund are 10.00 to win the Europa League this season and will face Atalanta in the last 32.
Leave a comment