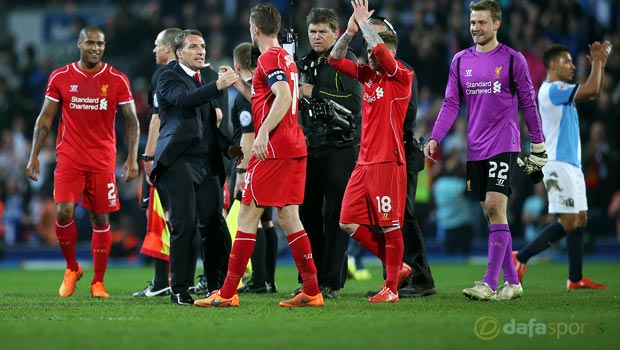 Brendan Rodgers watched Liverpool book their place in the FA Cup semi-final and then dismissed suggestions he had held crisis talks with his players ahead of the game.
The Reds are on their way to Wembley following a hard-fought 1-0 victory over Championship outfit Blackburn Rovers in the replay at Ewood Park on Wednesday night.
Phillippe Coutinho got the only goal of the game on 70 minutes, and Rodgers says the meeting he had with his players after Saturday's 4-1 defeat at Arsenal helped get his side back on track.
However, Rodgers was also keen to reiterate it was not a 'crisis' meeting and no different to the ones they hold on a regular basis whether winning or losing.
"There was a lot made of that," he said. "I'm a coach who speaks openly to players. Part of the coaching philosophy for me is about reviewing and reflecting performance.
"It's something that we've done all year when we were winning games. That provides us the lever to move forward – how can we be better, how can we improve?
"Because we lost a couple of games, there's a lot been made of that meeting but that review was very, very important in how we want to work. If you don't review and analyse your performance how can you get better?"
The Reds will now face Aston Villa in the semi-final later this month as they look to finish the season, Steven Gerrard's last at Anfield, with someone silverware.
Rodgers insists Liverpool's season did not hinge on the result at Ewood Park, even if their chances of qualifying for the Champions League look slim.
"I'd seen all of this about saving our season, it wasn't about saving our season," he added.
"We want to compete at the top end of the league and want to win a trophy this year – that's been clear."
Leave a comment