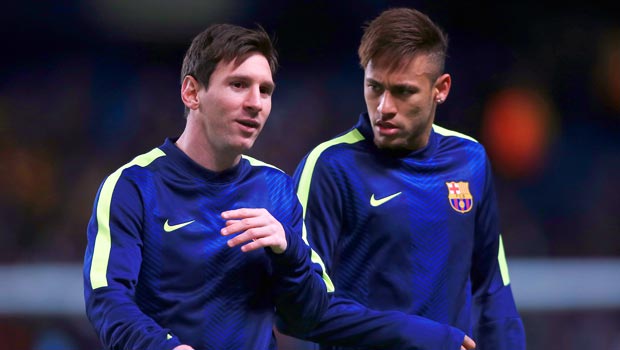 Luis Suarez has praised his Barcelona team mates Lionel Messi and Neymar, believing the duo are truly greats of the game.
The Uruguayan could not link up with the striking duo until the end of October due to his much-publicised suspension and he initially struggled to make an impact.
However, the former Liverpool front man has begun to rediscover his best form and has developed a strong understanding with his fellow South American attackers.
The trio have scored 82 goals between them this campaign and contributed 47 assists, which has helped Barca move top of the La Liga table as well as reach the Copa del Rey final and the Champions League quarter-finals.
Suarez has now revealed how highly he rates his two team mates, believing Messi can do things with a ball that no one else can do.
He said: "For most people, he is the best player in the world by a long way for everything that he does on the field. He does things other players can't do.
"There are times when he passes you the ball which you weren't expecting because there are so many legs in between."
The 28-year-old also praised Neymar, who he believes will become the best player in the world in the years to come.
He continued: "He will be the best player in the world because he has it all. He has a lot of quality, scores goals and is a great team-mate, which some people sometimes doubt."
Next up for Barca is the El Clasico with Real Madrid at the Camp Nou on Sunday. Barca are one point clear of their fierce rivals at the top of the La Liga table and it could be a pivotal day in the race for the title.
Barca are 1.66 favourites to win the match with Real available at 4.77. The draw is on offer at 3.88.
Leave a comment