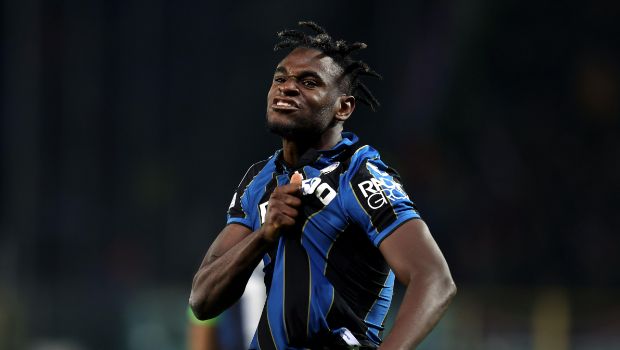 Romelu Lukaku has emerged as a top target for Roma after Atalanta blocked Duvan Zapata's exit.
Zapata had been on Roma's radar after Tammy Abraham suffered a long-term injury.
Jose Mourinho, whose side opened their Serie A campaign with a 2-2 draw against Salernitania at the Stadio Olimpico, has been desperate for a striker.
Andrea Belotti is the only fit striker at the club, and the former Torino man is yet to score even ten goals since his to Rome.
The latest development has made Roma fans dream of seeing Lukaku move to the Stadio Olimpico.
The Belgian forward, who played for Inter Milan last season on loan from Chelsea, is outside the Blue's plans for 2023-24.
Despite reaching an agreement with Juventus, his potential transfer to Turin could be more stable as the Bianconeri must sell Dusan Vlahovic first.
According to several sources, including Sky Sport, the Giallorossi can only secure his signature on a loan.
Il Corriere della Sera also reported that Lukaku has offered himself to the Giallorossi.
It's now left to see if the deal will happen, as Roma doesn't have the financial resources to match Chelsea's €40m asking price.
With the transfer window nearly closed, Roma fans dream of welcoming the lanky forward.
According to several sources from the capital, most Roma fans have put the Belgian on top of their wish list.
Corriere dello Sport editor Ivan Zazzaroni, in his column on Wednesday, said that many supporters are 'ready to pick up Lukaku at the airport' if the club signs him, while local radio stations are speculating about the striker's potential arrival in the capital.
Sky Sport Italia's correspondent Paolo Assogna jokingly said on Wednesday afternoon that he has to 'disguise' his voice when picking up the phone as the vast number of fans were calling him to have updates on Lukaku's transfer.
Assogna, who highlighted Roma's financial predicament, said they could only sign Lukaku on loan in the final days of the transfer window, with Chelsea paying part of the striker's salary.
Leave a comment