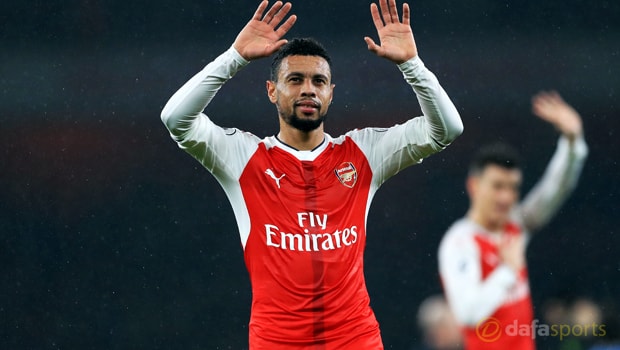 Arsenal manager Arsene Wenger has confirmed that he could be without midfielder Francis Coquelin for up to four weeks due to a hamstring injury.
The Frenchman started Tueday's night's 3-3 draw with Bournemouth but he was eventually forced off during the first-half.
Arsenal struggled following his withdrawal, with his replacement Alex Oxlade-Chamberlain unable to provide an impact off the bench.
The Gunners eventually rallied to secure a point but Wenger will still be without Coquelin for the next few weeks.
Wenger had originally voiced his concern after the game, admitting Coquelin's refusal to carry on showed the severity of the knock.
However, speaking on Thursday to reporters, Wenger admits it may just be a matter of weeks.
"Coquelin is three to four weeks now," he said. "He has a hamstring problem. I say three, four weeks because he came off.
"Maybe we have good news. He has a scan today." Coquelin is set to miss Saturday's third round FA Cup clash against Preston North End at Deepdale and he could also be joined by Lucas Perez and Mesut Ozil.
Perez picked up an ankle injury against the Cherries, while Ozil is still out with an illness and Wenger is in the dark over the German's availability.
"Ozil is coming in today and will be assessed by the doctor," he added. "He has been in bed for two weeks so I cannot imagine he will be involved on Saturday. It's a flu yes, a throat infection, I don't know exactly."
Leave a comment