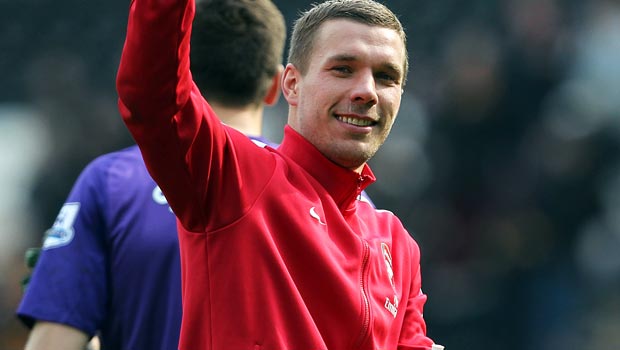 Striker Lukas Podolski is confident he can become a regular starter for Arsenal this season.
The Germany international was linked with a summer exit and the likes of Galatasaray, Wolfsburg and Juventus were all credited with an interest.
Podolski admits that there was interest in the summer but he insists he never considered leaving the Emirates Stadium after the support he received from boss Arsene Wenger.
"There were some enquiries from abroad, and also from the Bundesliga. But as a Cologne guy, it would have been difficult to play for another club in Germany," he told German publication Kicker.
"To go to Russia – Walachia [a German expression for the middle of nowhere] – or the United States was in no way an alternative for me.
"I had a chat with Arsene Wenger, during which he told me that he is banking on my firepower and assists, and wants to keep me. That's why the issue of a transfer was rather secondary to me. I feel great in London and at Arsenal, and it continues to stay like that."
He added: "We have a lot of games in England so I am convinced I will have the opportunity to prove myself. Then I have to prove to the coach that I'm ready."
Podolski believes Arsenal can challenge for the Premier League title this season, with Arsenal 11.00 to win the Premier League outright, but the 29-year-old feels the Gunners will have to improve on their results against the other top sides if they are to secure Premier League glory.
"The title is not a dream, it's possible. But there are five or six other teams with similar thoughts. It will be down to the details in the end," he said.
"We only won six points in the matches against the other top five clubs [last season]. Those were the points that cost us the title. We were in front for half a year, but dropped decisive points against Chelsea, Manchester City and Liverpool towards the end. We need to change that this year."
Defending champions Manchester City are 3.80 to win the Premier League, while Chelsea can be backed at 1.75.
Leave a comment