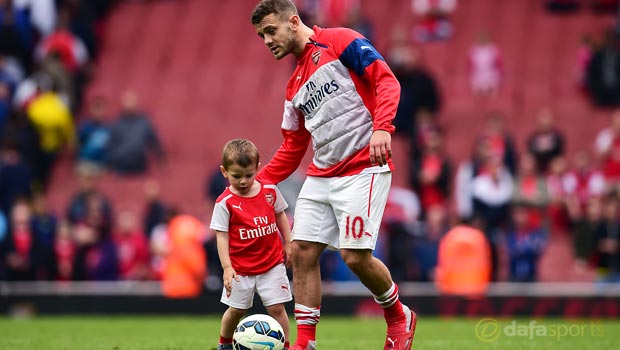 Arsenal midfielder Jack Wilshere has denied reports he could leave the club this summer and insists he has not held talks with Arsene Wenger about his future.
The 23-year-old midfielder has been hampered by injuries again this season and has struggled to cement a first-team place since his return.
He suffered a serious ankle injury against Manchester United in November and underwent two operations before making his comeback against Hull earlier this month.
Wilshere was substituted in Wednesday's goalless draw with Sunderland
– his first Premier League start in almost six months – and there have been suggestions he could leave Arsenal this summer.
Manchester City have been linked with the England midfielder but he insists the reports are speculation and nothing more.
"You can't stop the speculation or do anything about it," he told the Daily Mail. "I have not spoken to the boss about it at all. He has not mentioned it to me. I've not mentioned anything to him.
"At the moment, I need to get back in the team. The speculation about my future started when I was injured."
Wilshere joined Arsenal as a nine-year-old in 2001 and admits it would be difficult to play for any other club.
"I would be hurt if they sold me," he added. "I want Arsenal to want me. So if they didn't want me, it would hurt.
"It would be strange playing for another club. I went to Bolton on loan and that was strange.
"I feel like I'm ready to play now and that's not going to change."
Wilshere could still end the season with an FA Cup medal and Arsenal are 1.57 favourites to win the Wembley clash on May 30, with Aston Villa priced at 6.00.
Leave a comment