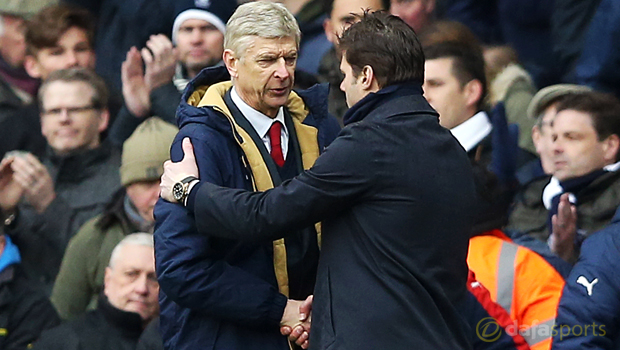 Arsene Wenger says the Premier League title race has got plenty more twists and he feels his Arsenal side have the spirit to come out on top.
The Gunners have been heavily criticised in recent weeks after defeats to Manchester United and Swansea saw them blow the chance to close in on leaders Leicester.
Arsenal led the north London derby at Tottenham on Saturday but were then forced to come from behind to secure a 2-2 draw with 10 men after Francis Coquelin was sent off.
Wenger says he has full belief in Arsenal and that the race for title glory is 'far from over'.
"We will not give up on the championship and will fight until the end," he told reporters.
"I believe the championship is far from over and let me remind you we have beaten Leicester twice – we have done our job against them – so people have to look at the other teams more, not us."
The Frenchman says people are wrong to criticise the spirit of this Arsenal team, despite their recent struggles. He says it is clear they are putting everything into their games.
"When people question the spirit, it doesn't mean they are right. The spirit was questioned after Swansea but I would invite you to watch the game again," Wenger told a press conference on Monday.
Some have questioned whether Wenger should retain his position this summer if Arsenal fail to win the league. According to Wenger, much has changed in football since he arrived in England but he says the one constant is the desire to win and the pressure he puts on himself.
"No matter what people say it does not influence us. Opinions are opinions. I always have the same pressure – that which I apply to myself – after that, well you have more people talking than 20 years ago, more opinions, but the pressure doesn't change. It comes from within to win the next game," he added.
Arsenal are 5.50 to win the Premier League. Tottenham are 3.75 while Leicester are 2.20.
Leave a comment