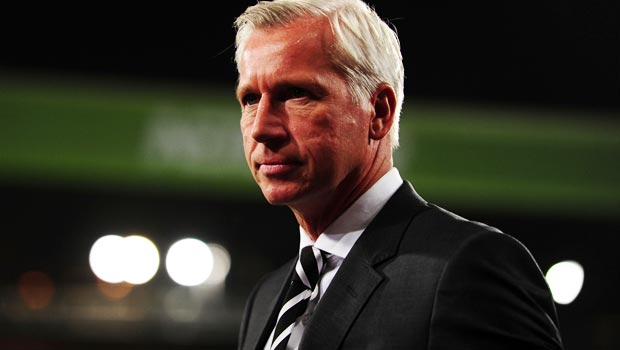 Alan Pardew has played down Newcastle owner Mike Ashley's "out of context" claims that he would be sacked as manager if the side loses the Premier League game at Stoke on Monday night.
The Magpies boss has been under pressure since the start of the new season as the side's poor form from the end of last term has continued and they currently sit at the bottom of the league table on three points from five matches.
A battling 3-2 extra-time Capital One Cup win at Crystal Palace on Wednesday appeared to give Pardew some time to try and use that success as a springboard to guide the team up the table.
However Ashley was then reported to have told an Independent journalist in London: "If we lose against Stoke on Monday night then he's gone. I have had enough.
"Dead. Finished. Over. One more game then that's it."
The businessman, through a lawyer, insisted that his comments were a joke after all the newspaper speculation that Pardew is close to being axed.
Pardew has responded on Saturday morning to insist that he is not worried about Ashley's comments and he is staying focused on securing a first win of the season at Stoke.
"Sometimes things are taken out of context," said Pardew.
"If it was a sit down interview done in a serious manner, I'd be a lot more concerned than I am today, that's for sure."
Pardew added: "I've not seen to him, I've spoken to him this week.
"He's obviously very keen for us to get victories, that's what he's about. That's what we're about – winning.
"I've been made aware of his comments in the paper, I've been under pressure at this club for a number of weeks now.
"All I can focus on now is the team and that's what I'll do."
Newcastle are 3.40 to break their win duck at the Britannia Stadium on Monday, while Stoke are 2.10 and the draw is 3.34.
Leave a comment