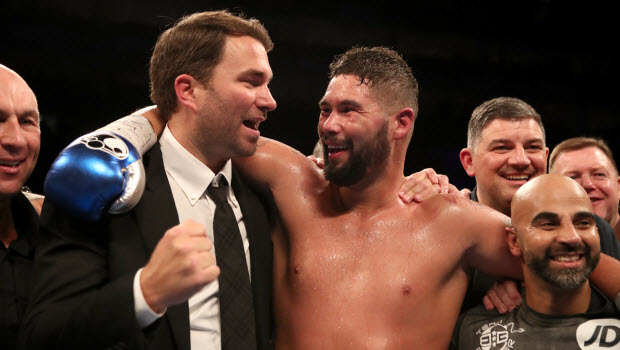 Promoter Eddie Hearn has confirmed that Tony Bellew will fight again in 2017 following his dramatic win over David Haye earlier this month.
The 34-year-old stepped up to heavyweight to take on his fellow Brit and shocked the division when he stopped the injured Haye in the 11th round.
Haye suffered an Achilles injury in the sixth round but battled on before trainer Shane McGuigan threw in the towel after yet another knockdown at the 02.
Bellew claims he broke his hand during the fight and admitted afterwards he could retire although Hearn now insists he will return. A rematch with Haye is one option while Hearn has revealed Bellew could take on the likes of Joseph Parker, Tyson Fury or Deontay Wilder.
He told Sky Sports News HQ: "We're going to fight this year, 100 per cent. "Like Tony [Bellew] said, the decision will be made by him and his family and it's my job to present the opportunities to him.
I believe the Haye rematch will be one of those opportunities. "Part of Tony Bellew wanted to beat him fully fit. There are some unanswered questions.
It was an epic event, it was a thrilling fight, but the Haye rematch certainly remains one of the biggest fights out there for both guys. "For Haye the only fight out there is the Tony Bellew rematch.
For Tony there's the Haye rematch, there's Joseph Parker, there's Deontay Wilder, there's Tyson Fury, there's plenty of options."
Leave a comment