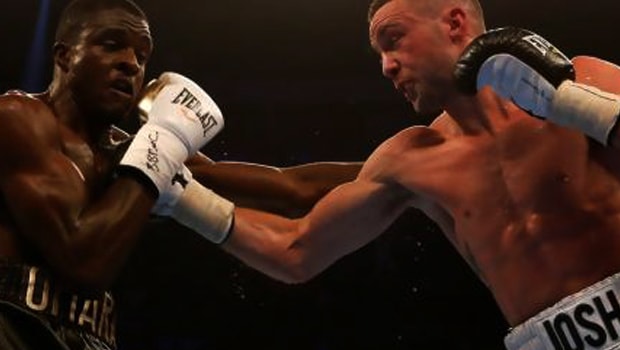 Scotland's Josh Taylor has set his sights on taking on fellow countryman Ricky Burns following his sensational stoppage win over Ohara Davies on Saturday night.
The two unbeaten British super-lightweights went to war at the Braehead Arena in Glasgow but it was Taylor that saw his hand raised at the end of the bout.
Taylor started well and his quick combos were causing havoc, with Davies swinging wildly on several occasions.
Davies touched the canvas at the end of the third round but he managed to fight on until the seventh round before he seemed to quit.
Another barrage of punches from Taylor hurt Davies and after another count he turned his back before the referee jumped in to stop the contest.
Taylor insists his boxing skills were always going to pay dividends and he was quick to call out Burns, who was ringside.
He told Channel 5: "I knew my superior boxing skills would come in to play. I knew it all along.
I knew my boxing skills would be enough to get through. I knew I was catching him.
I was a wee bit surprised he [turned his back], that he quit so early.
"Ricky is a great fighter, was a hero of mine. I think it would be a great fight for the whole of Scotland and it would sell out an arena or something."
Burns, Scotland's first three-weight world champion was open to the idea and insists Taylor's camp should contact promoter Eddie Hearn.
He said: "As far as I'm concerned nothing is set in stone for my next fight.
If it's a good offer, I'm sure you [Taylor's manager Barry McGuigan] have got my promoter Eddie Hearn's number."
Leave a comment