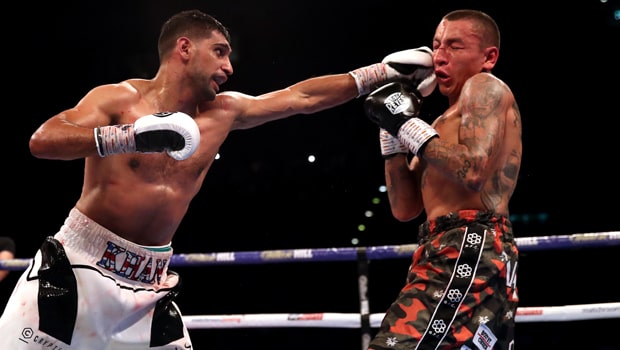 Bolton welterweight Amir Khan has admitted he wants to fight Manny Pacquiao next as he tries to become a world champion once again.
The 31-year-old moved closer to a big fight after outpointing Samuel Vargas in Birmingham on Saturday night.
Khan had to climb off the floor to win but he outclassed his opponent over 12 hard rounds.
It was the first time Khan had gone the distance since May 2015 and the Briton insists he needed the rounds ahead of a mega fight.
He was back fighting at 147lbs for the first time in three fights but he cruised to a 119-108, 119-108, 118-110 decision.
Sheffield's Kell Brook is still looking to secure a British showdown before the end of the year, but Khan insists he wants Filipino star Pacquiao next.
He told Sky Sports: "I wanted to pick my shots but he kept coming so I didn't have to look for him.
There were times in the fight when I could have pushed on him and probably knocked him out.
"But the thing is, I need the rounds if I want to move up and fight better opposition like Manny Pacquiao and Kell Brook. I have to go the 12 rounds and get experience in the ring.
"I want the biggest fights and that's where I belong. Me and Eddie [Hearn] are going to sit down.
There is a massive demand for it but the only fight that works for me over Kell Brook is Manny Pacquiao. Manny Pacquiao is who I want. I want Manny Pacquiao.
"Manny Pacquiao is my No 1 pick. If not, we will go back to the drawing board and if it's Kell Brook, it's Kell Brook."
Leave a comment