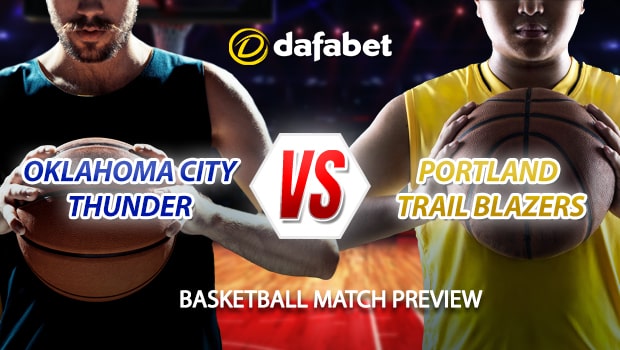 Oklahoma City Thunder vs Portland Trail Blazers
The Portland Trail Blazers took a 2-0 series lead over the Oklahoma City Thunder following Tuesday night's 114-94 win at home. The series now shifts to OKC as Russell Westbrook, Paul George and company look to protect their home court.
Let's take a closer look at where the value is at in this Game 3 matchup.
Team to Win (Regular Time)
• Oklahoma City Thunder: 1.31
• Portland Trail Blazers: 3.75
Spread
• Oklahoma City Thunder -7.5: 1.95
• Portland Trail Blazers +7.5: 1.94
Total
• Over 221.5: 1.94
• Under 221.5: 1.94
Total: There's a 51 percent chance the total combined score gets to 222. The over hits in 64 percent of simulations.
The average combined score after 10,000 simulations is 230.
Building Momentum: This is the first time the Blazers have opened the playoffs with two-straight wins since their series vs Houston back in 2014.
Defense Setting the Tone: Toronto's defense was a big factor in Game 2. They forced 17 turnovers that led to 26 points.
Time to Bounce Back: Russell Westbrook had a disappointing Game 2 performance where he finished with 14 points, nine rebounds and 11 assists. He shots just 5-of-20 from the field, missing five of his six three-point attempts. Oklahoma City as a team shot 5-of-28 from beyond the arc. Westbrook was adamant after the game that he is "going to be better."
Damian Lillard s projected to lead Portland with 27 points, 7 assists and 2 steals.
For the Thunder, we'll have our eyes on Russell Westbrook who's projected to finish with 25 points, 11 rebounds, 11 assists and 2 steals.
Portland to cover the spread.
This is a 3-star (out of four) AccuScore hot trend pick. Whereas most books have OKC as fairly heavy favorites, our simulations data has Portland winning this game. The average score after 10,000 simulations is 115.4 – 115.1, in favor of Portland. They cover the 7.5-point spread in 82.5 percent of AccuScore simulations.

Leave a comment