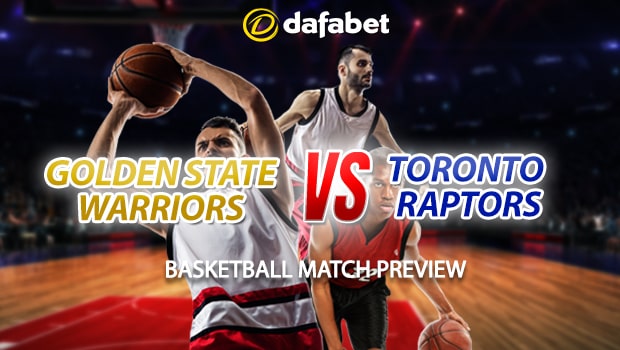 Golden State Warriors vs Toronto Raptors
The Golden State Warriors stayed alive in the NBA Finals as they squeaked out a 106-105 win on the road in Toronto. The Raptors now head west to Oakland for Game 6 Thursday night.
Let's take a closer look at where the value is at in this Game 5 matchup.
Team to Win (Regular Time)
• Toronto Raptors: 2.29
• Golden State Warriors: 1.68
Spread
• Toronto Raptors +3.5: 2.00
• Golden State Warriors -3.5: 1.88
Total
• Over 210.5: 1.78
• Under 210.5: 2.13
Total: There's a 56 percent chance the total combined score goes over 210.5. That happens in 63 percent of simulations – a one-star (out of four) hot trend pick.
The average combined score in simulations is 217.5 points. .
Splash Bros: Steph Curry and Klay Thompson combined for 12 made three-point baskets in Game 5, shooting 44 percent from beyond the arc as a duo. These two are projected to combine for 9-of-17 from three-point range in Game 6.
On the Other Hand: Toronto struggled mightily from long distance in Game 5, shooting just 8-for-32. They made up for it at the free-throw line though, with 27 attempts at the charity stripe compared to just 14 for Golden State. Something to keep an eye on as the Warriors — more than likely — will continue their long range onslaught at home in Game 6. Toronto will need to keep things competitive by getting to the line.
Pick-and-Roll: Kevin Durant did return in Game 5 only to be brought to the sidelines following a league-changing, career-changing Achilles injury. Game 6 — and potentially 7 — will largely be dictated by the brilliance of Curry. This series, Golden State is getting 1.1 points per possession on Curry pick-and-rolls. It has been their most efficient way to put the ball in the hoop, so watch for an extra dose of that in Game 6.
Stephen Curry is projected to lead Golden State with 28 points, 6 assists, 5 rebounds and 1 steal. In simulations, he averages 6-of-10 from beyond the arc.
For Toronto, we'll have our eyes on Kawhi Leonard who's projected to finish with 24 points, 7 rebounds, 3 assists and 1 steal.
Warriors -3.5
This is a 3-star (out of four) AccuScore hot trend pick. There's a 53.3 percent chance the Warriors cover a 3.5-point spread; that happens in over 68 percent of simulations.

Leave a comment