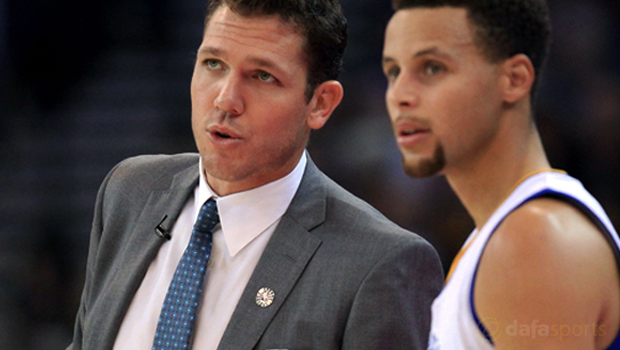 One of the Golden State Warriors' biggest strengths is the quality of their bench, according to interim head coach Luke Walton.
Walton has been placed in temporary charge of the defending NBA champions, as Steve Kerr has taken an indefinite leave due to a back problem, and he has led Golden State to eight wins in as many games so far this season.
The Warriors downed an organised Detroit Pistons side 109-95 on Monday and Walton was delighted with their performance.
The 35-year-old, a two-time NBA Champions as a player with the Los Angeles Lakers, feels Golden State's strength throughout the squad gives them an advantage over their rivals.
"Our second unit, in that beginning of the fourth, was huge for us. We were ready to get our starters back into the game and then they picked it up on defense and that led to some offense and got the crowd involved," he told NBA.com.
"They got us a nice big lead there and we were able to give our starters a couple of minutes on the bench and [Leandro] Barbosa was a huge part of that.
"It's one of the great things about our team. Our second unit is, we feel, the best in the NBA. We have great chemistry. We have veterans on that second unit that know how to win. When they give us that type of performance it just makes us that much more dangerous. Did we need it? No, but it was nice to have."
Golden State, who are 5.00 to win the NBA Championship outright, return to action on Wednesday when they travel to Memphis Grizzlies, who have a record of 3-5 after eight games.
Cleveland Cavaliers are 3.80 to secure the NBA Championship and the San Antonio Spurs can be backed at 5.00.
Leave a comment