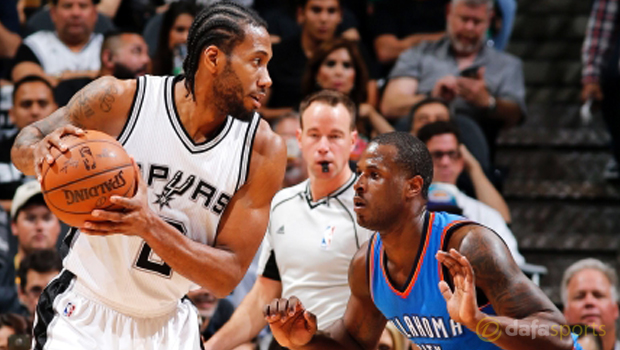 Kawhi Leonard says the San Antonio Spurs' 40-1 home record will count for nothing once the NBA play-offs get underway.
The Spurs beat the Oklahoma City Thunder 102-98 on Tuesday evening in their final home match of the regular season to tie the Boston Celtics' previous record and continue their momentum heading into the play-offs.
Wednesday sees them take on the Dallas Mavericks in their final match before the play-offs, where they are currently on course to face the Memphis Grizzlies in the first round.
Having won the Championship in 2014, the Spurs disappointedly fell in the last 16 last year but have been tipped go further this time around, having also reached the Conference Finals and the NBA Finals in 2012 and 2013 respectively.
Gregg Popovich's team are currently 4.50 joint second favourites alongside Cleveland to win the Championship, with reigning champions the Golden State Warriors leading the betting at 1.67.
San Antonio's form has understandably led to optimism surrounding their play-off hopes and their record at home means no-one will be relishing a trip to the AT&T Center.
Leonard is keen to play down their record, though, arguing that form can often go out of the window in the post-season.
Instead the small forward has called for focus from his team-mates and has urged them to keep making the most of tactics that have served them so well in the regular season.
"That's great," Leonard said. "But going into the playoffs, it doesn't mean anything. Everybody's going to be playing hard.
"Everybody knows your game plan and how you play at home. So we've just got to keep playing."
Leave a comment