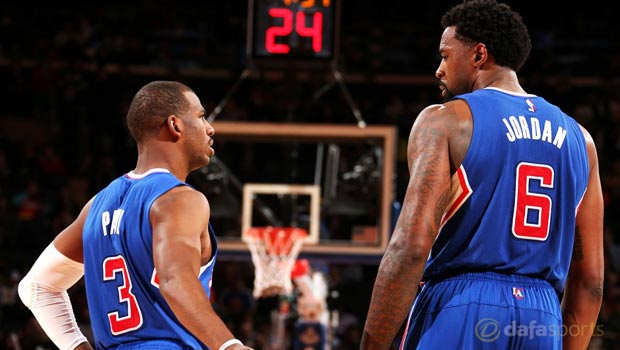 DeAndre Jordan says he and Chris Paul are ready to move on from their various spats to help the LA Clippers succeed in the upcoming season.
The pair have regularly clashed over the last year, with Jordan thought to have become frustrated by his colleague's perfectionism, while Paul is believed to have criticised his team-mate's poor performance in practice, most notably his unwillingness to work on his free throws.
Their feud even led free agent Jordan to commit himself to Dallas for next season, only for him to eventually change his mind and elect to stay in California.
Despite their differences, the Clippers still made it through to the Western Conference semi-finals and they are currently 11.00 to win the NBA Championship in 2015-16, with LeBron James' Cleveland Cavaliers the 3.80 favourites.
Jordan has now revealed that he and Paul have sat down in the off-season to discuss their issues and believes they are now ready to help the Clippers challenge again when the new season gets underway in October.
"We went through a lot of stuff this summer, man," Jordan said.
"Things that people said that I said about him, things that people said he said about me, which, none of them were true because we talked about it.
"Chris has been a great teammate to me. Teammates bump heads and argue, but it's for the greater goal of the situation and for what you want to do.
"I feel like Chris didn't say anything [out of line], I didn't say anything [out of line], so we took hits, but we know what our relationship is like and what it's about."
Leave a comment