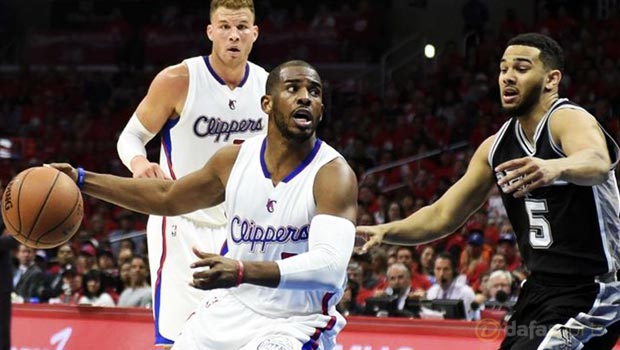 Los Angeles Clippers may have cruised to a 107-92 victory over the defending champions, San Antonio Spurs, but guard Chris Paul was quick to pour cold water on suggestions that Game One was a sign of things to come in the series.
Paul helped himself to 32 points, seven rebounds and six assists as the Clippers set their stall out with a dominant victory but he already feels that the second game may well have a different look to it as he knows the Spurs squad can simply shoot better than they did on Sunday night.
"It's one game, it is what it is," Paul told a news conference. "I know, from guarding Tony [Parker], he missed a lot of shots that he could have made.
"They were right there in the basket, they were in and out, I [will] look at the film and see what I can do better to defend him."
Spurs have moved to dismiss injury concerns over their star man Parker after the point guard picked up a knock or two in the Western Conference round-one opener.
He appeared to suffer an ankle injury as well as a thigh problem in the first quarter while defending Blake Griffin, which did force him to leave the game for a while.
Spurs coach Gregg Popovich is adamant that Parker, who scored 10 points with one assist and two rebounds, will be fit for Game Two on Wednesday.
"He tweaked his ankle. He retaped it, and he's fine," Popovich said. "He'll be ready to play on Wednesday, but he did tweak it."
Leave a comment