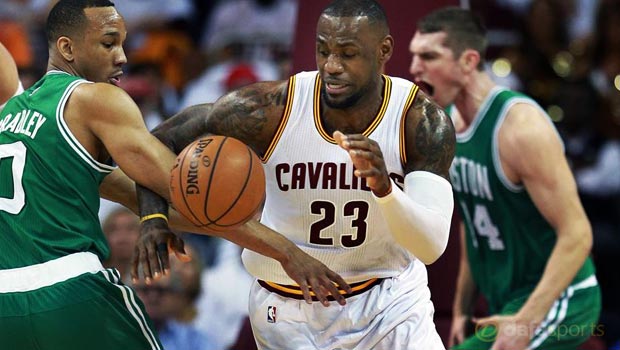 Cleveland Cavaliers are expected to go deep in the NBA play-offs with Lebron James now back driving the team and they opened their play-off series against Boston Celtics with a 113-100 victory at the Quicken Loans Arena.
It was a first home play-off game for Cleveland since May 11, 2010 – also against the Celtics – and it was perhaps an understandably nervous start from the Eastern Conference's top two seeds, despite the experience of James, who was making a franchise record 72nd post-season game.
The Celtics were more than a match for their hosts for half the game but a more physical approach from the Cavs turned the game on its head as they opened up a 20-point lead, before a run of 14 unanswered points threatened a Boston comeback.
However, it was not to be as the Cavs closed out the game to draw first blood in the series, although it was not the 20 points from James that saw them home.
Kyrie Irving was the star for Cleveland on his playoff debut, scoring 30 points including five 3-pointers, while another post-season rookie Kevin Love, despite a slow start, added 19 points and 12 rebounds.
James hailed his less experienced team-mates' performances and admitted they were key to the Cavs' success.
"I thought they were phenomenal, you know starting with Ky[rie Irving], you know he's our floor general. He set the tone early on with his ability to make shots, his ability to get in the lane," James said.
"Even with Kev[in Love]'s shot not falling early, I felt like, just the rhythm he was in, the aggressiveness he was in, would pay off later for us. He turned it around in the 2nd half, he was just very aggressive.
"For him to have a double-double tonight … you know, those two guys, they succeeded their first time in the postseason."
The Cavaliers took their post-season record against the Celtics to 11-5 and will be looking to improve that further in Game Two on Tuesday night.
Leave a comment